I should do this by age or something. Probably end up with proximity.
Human persons:
Doug
: the dauntless
house
mate. He's ten years older than I am. We met in 1999, when I took up with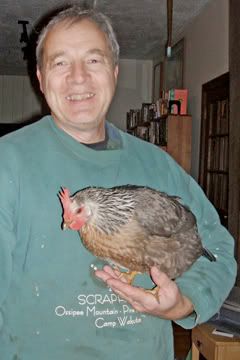 SCRAP
, and dated for a couple of years. After I moved to NH in 2004, I lived with
Sarah
for a year; she moved to Canterbury and after some negotiation, Doug moved into the
Kitchenette
and the two bedrooms at the back of the house. He moved out for the year or so of 2007, and back just as
Paul
moved out. We get along very well, particularly now that we are not boyfiend and girlfiend. He plows the
driveway,
worries about the woodpile, tries to get me to exercise and eat wholesome meals and, unlike me, does floors. We share custody of
Mal
and
Wash
. Doug is going to marry
Barb
next month.
Barb
is a visiting nurse who lives in Connecticut with her brother and her adult daughter Becky and four black cats. Barb is not rural. She and Doug are not planning to live together until one of them retires.
Sarah
is about 23 years younger than I am. She is frequently mistaken for either my daughter or my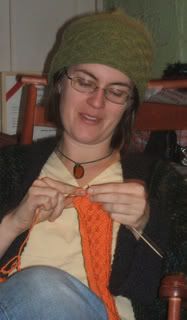 partner (everyone has been very supportive about it and it would save a lot of trouble, but neither of us swings that way). We met when I first worked with
SCRAP
and she was a lab supervisor. Since then she has gone into a more remunerative field in the region of non-profits. She is a teacher of environmental education in Laconia, and greener than most people I know. I helped ruin her life by getting her into the twilit world of spinning and dyeing. She lived here for about a year when I moved in in 2004 from Melrose, MA.She has two cats, one of whom is Special Needs. If you would like to adopt Twilly, please let me know.
Deb Duranceau,
Deb D is another friend from
SCRAP
, about Doug's age, who lives to the south. Sarah and I are trying to remake her in our own images and she has taken up knitting more seriously recently. Deb also volunteered to become my Bee Partner, because Doug is often not around and I need encouragement.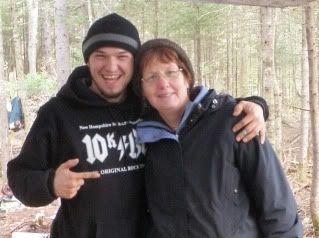 Deb is the one on the right.
Dick Boisvert
is the NH state archaeologist. He runs
SCRAP
. Dick is married to
Deb Boisvert
, whom we don't see enough of, but whose presence unseen or not has a lot to do with SCRAP's activities. Sometimes she participates and sometimes she affects Dick's plans, for, he tells us, he has no desire to find out what a divorce lawyer's office looks like.
I have two living parents in Boston,
my mother
and
my father;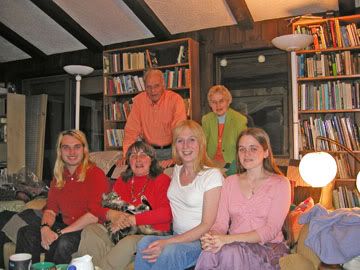 Clockwise: my dad, my mom, Ellie, Jenny, me and Asterix, Sam a few years ago
a son
Sam
(working at the Apple Store two blocks from my parents' apartment, engaged to
Kimberly.
They have two kittens); a daughter
Eleanor
(in grad school for Classics in New Jersey), and also in Boston, an ex named
Jenny
. She used to be named David.
Things change.
Jenny
is English.
My father
is Texan.
My mother
is urban, from Chicago.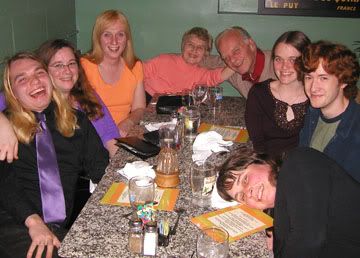 Sam and Kimberly, Jenny, my mom and dad, Ellie, her boyfriend Matt, and me
I used to have a contractor named
Paul
, who rebuilt
The Loom Room
and the
Kitchen
and lived here in theory for part of a year (2009). He moved out but left behind his daughter
Katie
, a high-school graduate who lived in the other upstairs bedroom for a year, until last September (2010).
Non-Human Persons or Characters:
Marten
is a large neutered male tabby cat who has lived here since I brought him from the shelter in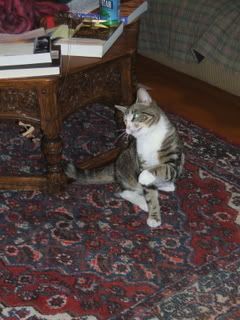 2005 or so. I think he's about six and a half. He goes for walks with us down the driveway, but he doesn't like going into the forest. Marten arrived while Asterix and Obelix were still with us. They were great cats who lived to be 19 and 17, respectively. I still miss them, and Mena who was only 9 (kidney failure). Doug had a tabby named Digger who died about the same time; he blames tainted catfood. Then we acquired
Willow.
She is a small tabby cat who really distrusts other cats. Sarah found her living in Canterbury Shaker Village. She loathes Marten and the other kitty we had for a while, Toby. Toby took to living under the porch until I took him off to live with Ellie in NJ. Marten was fond of Toby but being attacked by Willow made him sour, and he and Willow both hated Nigel, who was a lovely un-altered male who lived here for a few months in 2009-10. I hope Nigel found a new family rather than a coyote's belly. He disappeared during the 2010 SCRAP field school, who were camping in the front yard. After we had mourned his loss for a few months, Sarah told me about two kittens who needed a home,
Mal
and
Wash
. They have forged a friendship with Marten and a detente with Willow.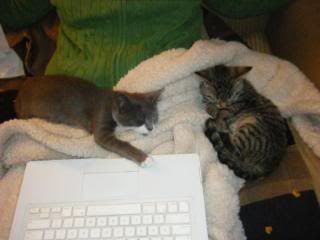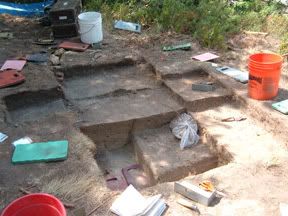 An archaeological unit
SCRAP
, the
State Conservation and Rescue Archaeology Program
that is responsible for running archaeology field schools every summer in NH. Which was the main reason I moved to NH. One does not get paid working with SCRAP, generally, but a bunch of us have been doing so anyway for a long time. As well as the four- to six-week field school Dick runs, there are sometimes others run by historical archaeologists along the same lines. You can get college credit for taking them, or sometimes poison ivy, or just hungover. It is a way of life. I love it. Sometimes we make road trips to dig with Dick's colleagues in Quebec or
Texas
. In the winter, on Wednesdays, we sort and catalogue artifacts, if were lucky enough to find any in the summer or the long weekend of Octoberfest.
The House
: a large, 'contemporary' (a year older than
Sarah)
with eleven acres of glacial till, uphill in almost all directions, both ways, outside of Henniker, NH. One of my criteria for a house when I was looking for it was that I should be able to put a car up on blocks if I wanted to. I don't, but I could. I never have to rake leaves again.
The ground floor is largely open-plan, with a living/dining area (dark, because the previous owner put a
glassed-in front porch
onto the front of the house).
Off to the right, or the north, there is
The Loom Room
originally built by the previous owner
around
a concrete slab. Paul had to rebuild it onto the slab with dry foundations, and the loft in the room because the support beam had been sawn halfway through to make niches for the two-by-fours of the loft floor (It bowed more than somewhat). I sold Doug the floor loom, but I have two or three frame looms and really a lot of wool. It's a sewing, beading, whatever crafting area, and also the spare room with a double folding futon.
There are
two bedrooms
upstairs (one of them
mine
), and maybe three, or two and a study, downstairs. The small bathroom used to open directly onto the dining area; now it's a dogleg away through the kitchen
The one+study make up most of Doug's suite, along with
The Kitchenette
. The previous owner made the Kitchenette out of a small, attached garage in order to offer his aging father a home.
My mother
claims the idea of living there is what killed him before he took residence. There's a three-quarter bathroom. One way and another,
the Kitchenette
is the sunniest, warmest room on the ground floor, and an incomparable view of the proximal portion of the driveway (the paved part).
My Bedroom
is the sunniest, warmest room on the second floor. This makes it hard to get out of bed. It has a deck with a couple of bird feeders. I wish the bathroom were not
ensuite
, and opened onto the hall, because it's icky for anyone in the other bedroom to use it (to say nothing of what I think of people having to come into my bedroom in the middle of the night). The original owner (I believe still in the federal pen for drugs and suborning federal agents as well as local cops) was a lousy designer.
Several years before I bought the house from its second owner the four-car garage burned down, so I have a
big concrete pad
which uses most of the flat place they made when they built the house. There is a compost heap and some garden beds around the edges of the pad. I bought in some decent soil last year, making a huge difference in garden yield.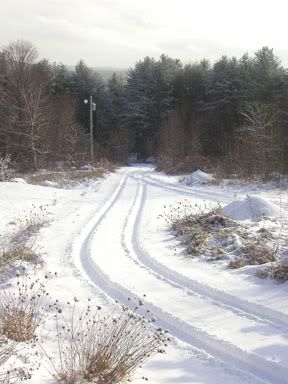 The Driveway
actually runs downhill to the road, but the downhill is much less noticeable than the uphill on the way back. It's about a quarter-mile long and unpaved. The gravel washes out. The drive in places lies directly on the bedrock.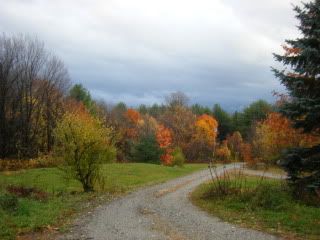 It's pretty in the autumn
So that's something to be getting on with.