We had no trip to Canada last year because our friend Dr. Claude Chapdelaine was digging way on the west of the province, too far for a day's drive and long weekend. This year he reopened the place near Lac Megantic and a few of us were invited up. It is always pleasant on BiEre 14 (Pronounced Beer Quatorze. I once took a picture, but I can't find it...). This year they put us up camping outside a very nice cabin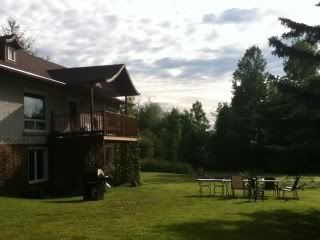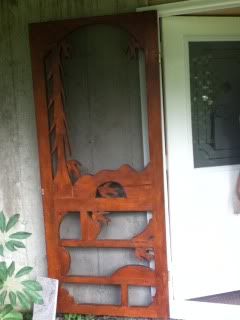 I want a fancy screen door.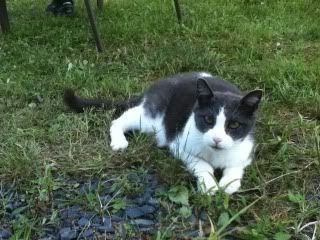 Minou
supervised by a charming, very old cat. They also had mean and painful mosquitoes.
The site was, as always, shady, bird-loud, and relatively mosquito free.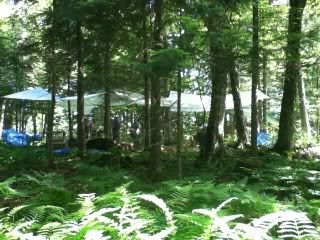 It's near where the river debouches into the lake, and it's lovely, though curiously pocked with plastic-lined pits.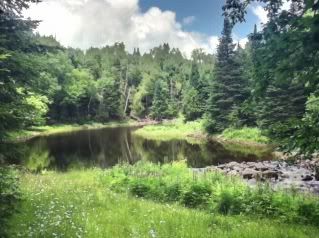 They dig in
sous-quadrants
there, every meter divided like ours are into four, and those into four again.
You can see it to the right here. This allows them to get a bunch of people into a rather small space.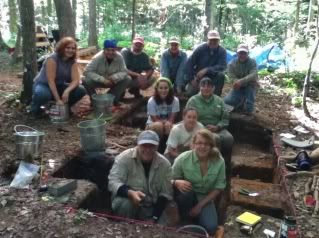 Diana, Colin, Dick, Claude, possibly Pierre,George
Joy, Laura
Tatum,
Pierre Corbeil, Abbie
Abbie was allowed to find a nice Munsungun preform (a probable point in the making that someone messed up and gave up on). Dick had to leave early, but we were allowed the presence of Francine, Claude's wife, who is awfully nice and whom we had not seen for years.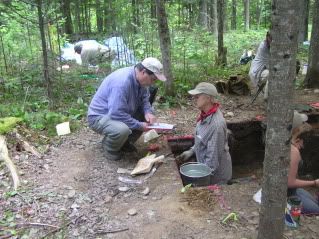 Claude and Francine
They have apparently given up on making us do paperwork, which is all right, since they still fed us magnificently. And the cottage was close to the actual Lake Megantic, so SCRAP got to go swimming there for the first time.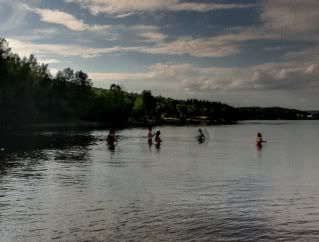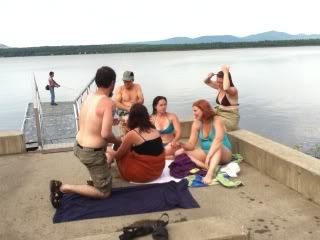 We sacked the Dollar Store and came home with flamingoes, throw rugs, small camping stools... foreign cheese, cookies.... it's a wonderland.