So we picked me up and took me to the grocery store, and as Ellie had figured out what we were going to have, it was okay.
She and my father and I can't eat wheat. She is vegetarian. My mother does not eat dairy or chicken or turkey or much egg. My son used not to eat dairy, but he got over the asthma attacks, and my ex-husband and Doug both eat everything.
So no turkey (or stuffing... I miss stuffing), but we needed some kind of festive meat. Ellie suggested that I figure that out myself as she was not cooking it. Turkey is a fine American meat, what else is?
Alligator!
No, not easy to find in local stores (also they say it tastes like chicken, which my mother...). My father suggested raccoon, but I opted for
bison
, which is quite easy to get (and if I had thought of it in advance I would have been able to get locally-raised, too).
Thanksgiving was the first day Doug has had off in about a month. He rose to the occasion by tidying the daylights out of the living room, which would almost make a person think it needed the work. I washed dishes in the kitchen while Ellie cooked black bean soup and polenta. My parents were bringing salad and mashed potatoes, and my son was bringing pumpkin pie. They and my ex were driving from Boston, leaving Early, Daveifer said, to get up here by 11.
Around noon we finished cleaning and I made a squash gratin (sliced thin with onions like Martha Stewart told Susan Stambourg) and conventional cranberry sauce, and Doug swept the steps again and dug out his car because it was snowing hard. My family called sadly from the tollbooth and said the traffic was horrible. We all changed clothes and took a few breaths. About 1:30 my son called. He and his father had jacknifed the VW in the middle of the road up here, blocking my parents, among others, and borrowing a phone from someone who had a service that works up here as his and his father's and my parents' phones do not work near my house.
We had sort of been expecting them to call from the bottom of the driveway,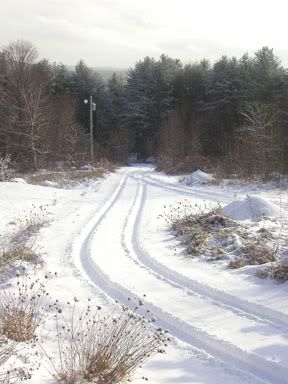 but this was more dramatic. We had about five inches; usually the town plows really well, but this was a holiday. Doug went out with his Subaru and my father got the VW out of the snowdrift and they all went four miles back toward town and parked at the gas station. We got to eat (scheduled for 12), around 3.
This was after Sam had started the fire in the fireplace; the wood stove has been running, but the fireplace is more festive. Doug had thoughtfully laid a one-match fire and I assumed he had opened the damper. He assumed no one would open the damper before they lit the fire, and Sam has never lived with a fireplace and may not know about dampers, so of course he did not check. It is much more fun to open the damper with the fire GOING, and so Sam tried it, and then since the damper is tricky and the living room was filling with smoke I tried it, and then I put out my hair (only an inch or so lost) and Doug tried it (picture increasing billows) and he ended up putting the damper gently in front of the hearth.
Dinner, fortunately, was delicious.
The traditional holiday photos are grisly, but we had a good time.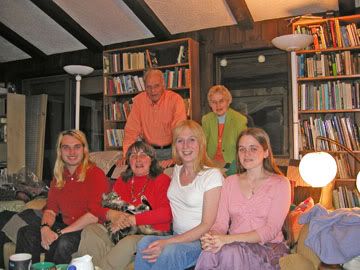 After everyone left I finshed the last Harry Potter. I was sad because the person who dies died and I was out of books.
My giant red socks felted beautifully and fit me (women's 9 and a half), which is unfortunate because I made them for my contractor (men's 11 and a half).
It has been a pleasant couple of days and in an hour I will take Ellie back to Northampton (!).