I miss Christmas. I still have a little fruitcake left (and half a pair of socks and a late-arriving mittlets) but the fine-pointed guided missile of purpose that I was in December is no more.
Tonight we are expecting the first snow in a couple of weeks.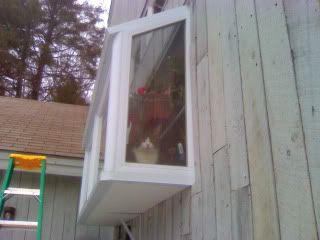 Marten watching us in the driveway.
Doug and I decided Paul was never going to get the stuff out of the kitchenette. Doug wanted the space. I wanted him to have it. In a burst of energy yesterday, He and Deb and I rearranged Paul's stuff into a disused portion of freezing porch (safe from rain and snow, however) and Doug rented a steam cleaner and did the rug. Today he is moving furniture in. Katie continues to live upstairs. I hope she gets a better job soon.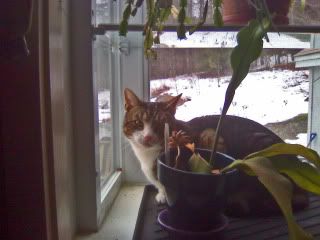 Marten from inside the house. With orchid cactus.
Right, the sun is coming out. Between four to eight inches tonight, for sure. Yesterday it was about 45 degrees F and delightful.
My parents, who are either saints or have decided my company will provide an alibi of some sort, are taking me to New York City for three nights. My mother wants to see an Egon Schiele exhibit. I want to go to the
Old Europe exhibit at NYU
. Any other suggestions?