I have largely finished the SCRAP database entry, so I have less excuse to avoid my Christmas knitting. This will not stop me, but still.
My mother's thing is sort of a surprise (she chose the yarn. She seemed bemused that I had so many types to choose from...) but complete (pics after Christmas). I took it almost altogether apart at least three times, and now the _very_ simple lacy pattern is correct all the way through.
My daughter's gloves were not intended as a Christmas present, and they were actually finished when I picked her up on Tuesday -- I had a couple of chances to try the fingerlength on her. I hope the angora blend does not pill too much, but in any case they will feel pleasant.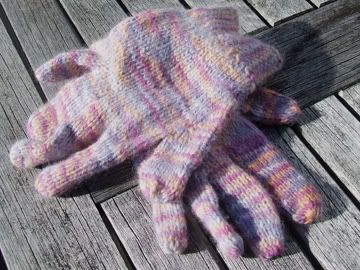 Just glovely. Thank you, Ann Budd.


So it was the Wool Tour back in October (where the responsiblity for the angora gloves lies, too) and by the end of the day and the reprise of the trip to the Fiber Studio and I was Weak and Not Thinking. My father often says he would like more colorful socks. The Taos by Crystal Palace was very colorful. I bought some.
When common sense returned (as much as it ever does), I realized the Taos was softly spun singles. The tensile strength of a scarf, NOT of size 13 socks. But so beautiful.
So I spun it again (suddenly the worsted was a sockweight) and plied it with itself (suddenly a slightly less jewel-toned bulky). It still feels like a felting disaster waiting to happen (my mother handwashes things that deserve it; I have to trust) but soooo warm and soft - not merino soft, but something with more integrity. Maybe Blue-Faced Leicester.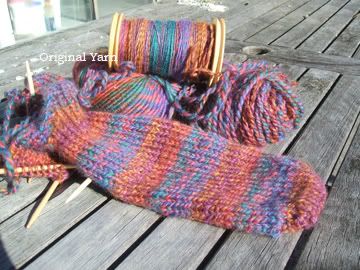 From 9 o'clock: the original ball of Taos, the spool of respun singles, the ball of two-ply, the sock in progress.


The only drawback is that it's 38 stitches around, makes up so fast it's dizzying, and my father may not think I have spent enough time on his present (since I like him, a certain amount of slave labor would be okay). I was able to try the initial sock on his foot and then turn the heel ("Clog-length already," my mother said approvingly. I offered a tiny pompom but we decided to go longer) while they were here for Thanksgiving; they won't be a surprise, but we agree that fitting is better than surprising.
I have a request from a dear friend for fingerless gloves for her wife. I don't think bulky will do, but I may have time to finish them before Easter. It's better than shopping.