Thanksgiving is not one of our best holidays, since there is nothing to do but eat and watch TV, and I have no TV. Also some of us should not drink wine before 6pm, or if we do we should just be honest and go nap.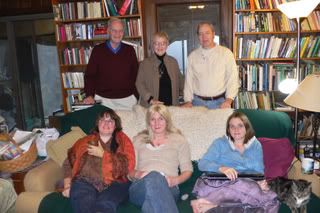 The food was delicious and made by the daughter, everyone pitched in with the dishes and the general tidying. I reckon I am the Luckiest Thanksgiving Girl in the World because I had leftovers and no piles of dead dishes. (Or relatives). The daughter had some weird (probably Smith-influenced, commie) idea we should all eat the same food. Since she is a vegetarian, her father avoids tomatoes, my mother eschews fowl, eggs, and milk products (though not cream), and my father is thorough-going celiac, this was not easy. She made delicious vegetable soup, mashed potatoes, and re-invented empanadas. They were a tamale dough pockets, fried then baked, filled with a mixture of summer squashes, onions, garlic, and walnuts. Oh, my goodness. There were five pies (my parents and the housemate) and the daughter made pumpkin cheesecake. The wine was
Acorn Medley
(which is delicious, unfortunately; it's well out of my usual budget) and my father brought a wonderful salad.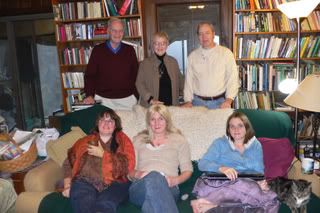 We spoke to geographically distant relatives on the phone and made remarks about what people were requesting for Christmas presents. No ne wants anything the others describe as exciting.
But it is obvious my life needs more excitement or I would not have been wistful listening to the ex and the daughter plan a trip to England (well, actually, it would sound pretty good anytime; I miss some aspects of being part of a family). Then the daughter and her friend took off for New York, and I should have stowed away, though it being her father's Beetle they might have noticed.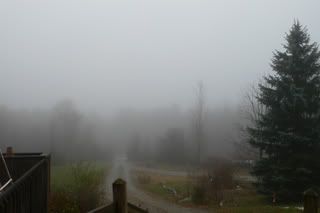 The weather didn't make us any livelier.
I have been working on my Latvian mitten, my father's socks, my ex's tea-cozy, and rereading all of Patrick O'Brian. Next week Doug and I are supposed to be leading a
needle-felting workshop
. Oh God.