well, not really. But I am putting the Team NH button up and I have this sweater I began New Year's of 2004.
Last Saturday it was about 48 F - sweater weather. Now it's 7F. Igloo weather, only we have no snow cover and I am concerned about my perennials.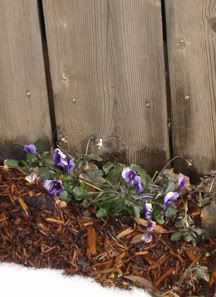 These "Icicle" violas have bloomed ever since I planted them, in August of 2004. That is snow in the foreground.
And the frog in the wetland behind my house whose croak I taped on my camera. I think it was a woodfrog, who freeze solid and thaw without apparent harm.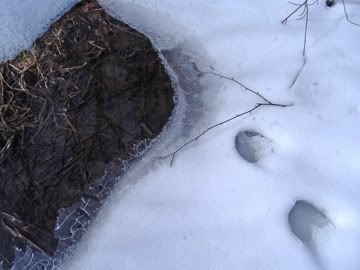 Deer tracks, unless these were among the many moose tracks. There were open places in the swamp, perhaps where the springs are.
So now it's cold.
Sarah
declared herself an Olympian; I am going to cheer and work on the pink sweater. It is based on a pattern by Manos that I think I have lost: lots of 4 stitch cables with five seed stitches on either side of each cable. I doubt, at this time, that I shall ever get involve with seed stitch again, certainly not to for the acres involved in a sweater (not one of your Size 10 sweaters, either) But it looks so nice... I did, at one time, have a sleeve done. From the cuff up, like the pattern asked. This was not a good idea. Sleeves go down, right? You pick up the stitches and you have control over where it decreases and how long it'll be. This sweater needs about another four inches on each of the front and the back, and two sleeves. I may or may not have enough yarn, depending on what's in the Green Mountain Spinnery bag*--I know I bought some, but is that what I am using now?
(*along, I admit, with the getting-starteds for the Stained Glass Sweater. This will probably be buried with with me, unknit, and if it's Hell, that's all the yarn I'll have; Purgatory, I imagine I will get more if I can make the sweater as far as I can Without Any Mistakes (say 5,00 years), and of course there are yarn shops in heaven.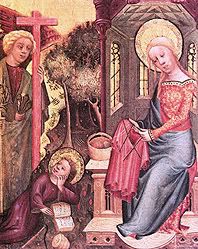 With good light and lots of comfortable chairs.