Of course, some places it's ALWAYS fruitcake weather. And none the worse for it. I stayed in my warm bed watching it snow a LOT (say 18"?) all day and finishing, God help us, my shopping, except for last minute guilt and ideas and oh yeah, I was going to make some silver things...
Sarah came on Saturday and we did not make fruitcake or decorate the tree.
I did finish my father's socks!!!!! We also took the sweetly non-materialist, Wal-Mart-rejecting Sarah to The Shopping Center ten days or so before Christmas. I had suggested she might find it a Bit Much but she had not thought what I might mean.
We went to Target and bought MORE plastic boxes to organize the loom room (which is getting so I am more familiar with my stash and less ashamed, even if it is an awful lot), and she got a
fluffy blanket
because the peer pressure was so intense. Only hers is brown. Mine is red. I got it because Heather (none of you know Heather, she is at Beloit and one of the best-loved people in New England archaeology) waxed so poetic about hers I could hardly help myself. Viral blanket memes. Willow says I must take her picture on it soon, perhaps after her belly fur grows back after the spay.
Sarah had a touch of the vapours from the crowds and sheer pressure of plastic and Chinese imports, but we made our escape. I still love Target's lack of Muzak, and they had plenty of cashiers.
Then we went to the supermarket, the beadstore for findings for Doug, the Co-op, and finally the Elegant Ewe, where I bought Sarah and me some Noro sock yarn because it is so exciting that it exists. Only I think it may be splitty. And I had vowed that I would do more more Size One needles knitting. Well, except for what's in my stash. And what I can't resist.
Last week (exactly, on Saturday, when Doug was letting his pack sniff approvingly at his new girlfriend, confusingly named Sarah C) Sarah (D) washed up here without a project and I offered her yarn. She looked at what I was willing to offer her and asked why one EARTH I had chosen this color, or THIS. At first the colors horrified her. Then she decided to make me socks and became quite reconciled to the colors as she realized they matched our drink of choice. She is really fast; here they are (there may be one more, or not):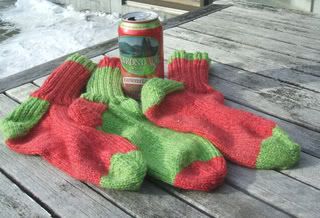 . They are pleasantly warm and I think they look like Christmas house-elf socks.
Today,as I said, I stayed in bed for long time, fiddling with my computer and stimulating the economy. Doug brought me slices of warm quiche and disappeared to shovel. I spent money I do not have and hope I have fun in New York (I need to get out of town. New York is out of town, all right. Three nights in Manhattan is not cheap).
Eventually I hauled my lazy carcass out of the Amazon website and made fruitcake, which I will need to do again tomorrow, particularly if I eat all of them tonight.
Gluten-free, sugar free Delicious Fruitcake. Makes ten little foil loaf pans.
Set oven to 300.
Chop up
8 oz of apricots, 4 oz of dates, add a pound of raisins
and another
4 oz of whatever fruit
– dried cherries are good, or dried pineapple, possibly crystallized ginger, or more raisins, or dried currants.
Grate as much fresh
ginger
as you like, if you haven't used it as fruit (probably you should stop at a T, and use less if you're using dried powdered), 1 T ground
cinnamon
, maybe some ground
cloves
(go lightly here) and nutmeg, maybe some
cardamom
.
Microwave these all in LARGE bowl for 5 minutes with the contents of one can of
concentrated apple juice
, reconstituted to 4 ½ cups. Or more juice and less water if you like. Maybe use some
bourbon
. One of the reasons one uses alcohol in things like this is that it frees up the volatile oils in the spices. Another is to share in the bootlegger mystique of
Truman Capote's A Christmas Memory
.
Some might say you should let this sit overnight. Probably not necessary. Allow to cool a little before you add
four eggs
(beaten, ideally) and
¾ c of vegetable oil
(I wouldn't recommend olive).
Food-process
8 oz of almonds
until very fine (builder's sand or better). This will make about 3 c of almond meal.
Take
2 cups of your favorite gluten-free flour
(say 1 ½ c of corn starch and ½ c of tapioca and maybe some bean, or GF mix, or if gluten is not a concern you could use whole wheat. One of these days I will use masa harina.
Add a
T of baking powder
to the dry ingredients and stir them well. Combine with the wet ingredients.
Stir in
2 cups of walnuts and one of pecans
, according to taste. For it is written 'nutty as a fruitcake,' and who are we to gainsay it?
Stir dry ingredients into wet. It will be gooey. Add more liquid if it is not. Try to distribute the nuts/fruits and the relatively liquid batter evenly among your pans. You can also make cupcakes or proper loaves, but you will have to adjust the cooking time accordingly.
Top each cake with a perfect pecan or walnut or
candied cherry
, and bake for 20 minutes and then look at them. Maybe another 20 minutes; they will shrink from the sides and bounce slightly back in the center if you touch them. You might add a t of bourbon or whiskey on each when they are hot out of the oven.