We have about 6" on the ground and it's very pretty. Sadly, when the Concord schools close so does my place of work, so I am home enjoying the peace and quiet and working on my father's socks. If I finish them I shall be probably be as pleased as my father will be; I look at the
Yarn Harlot's Christmas knitting list
and am astonished and perhaps horrified. But then, she's dedicated, and perhaps she doesn't allow her friends to strong-arm her into teaching a needlefelt class like Sarah did me and Doug yesterday.
Actually, and not surprisingly, I had a great time. We had four students, who behaved well, did not stick the needles into themselves (or worse, one another), and to my surprise a four-hour workshop was pretty good. We had a lunch break and everyone had time to make something and get ideas to take home with their felt and needles and a bit of roving. Doug is much better at some practical things, like bringing scissors, and he also could be firm. I was the good cop and kept telling them not to worry. I was pleased because I managed to write a relatively informative handout and to remember to bring the silk spacedyed roving, which looks very very nice on wool.
Afterwards Sarah took us back to her home for soup. She needs an orange hat so she won't be mistaken for a deer in the woods (deer wear other colors, maybe they are Republic-of-Irish?)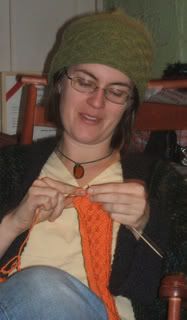 You may not be able to tell, but she is making the same hat as the one she is wearing. It will be superb. And Bright enough, I hope.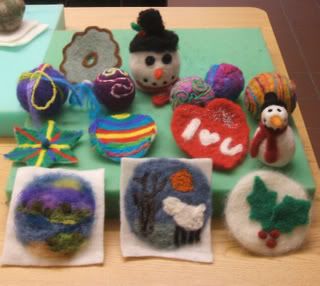 What we made in felting class
The bluish donut-shaped thing on the left is a base for embroidery and looked exactly like the picture the student wanted to make.
The water wasn't too cold, once Sarah threw me in.