Unlike these
sheep (enjoy caption)
.
Do I mean the really, I think TEN inches on top of the four-6 of crunchy, unyielding older snow, the ten inches (of which we got about six or seven got between about 1:30 and 6:30 this morning -- it must have been something) now being tucked in with a steady supply of freezing rain? It's 32.5 F (say 0.25 of a degree C) outside. It will be interesting.
I could mean the kitchen floor, with tastefully distributed groceries, or the bedroom floor (laundry, much in baskets, clean), or the living room where I cocoon, covered in a nasty combination of beads, embroidery floss, a few fat quarters (I have been frequenting the
quilting store
in the village, which is not Keepsake quite but is really pretty darned (buttonhole stitched, punchneedled) good.
I have been downstairs several times, trying to get the woodstove to start and feeding the cats and looking for a camera cable so I can download the beaded Valentines I made my daughter and our friend also named Eleanor. I am afraid the cable is in the car, which is entirely surrounded by water in its more solid, less gaseous phases.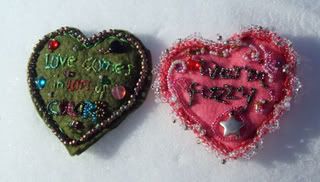 I found a cable in my room, with real cobwebs.
I did want a snow day. This may be excessive.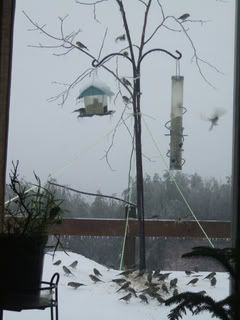 This is the deck outside my bedroom, with redpolls. Note that the feeder-tree is set in a joint-compound bucket. Which you can't see.

By the way, check out these
chocolates
. Read the interesting thing in the NYT about
milk chocolate
.

The weather in happier times, about two weeks ago.
I finally realized I should make my Photobucket album public. You might be able to click for bigger. We'll see.