The weather has been beautiful and warm the past three days. Sitting on the porch, wearing a T-shirt, knitting outside warm. Apart from spilling about a pint of off-white paint on a wall-to-wall carpeted floor, my days have been good. The first twined mitten is as finished as it is likely to get until I take it, and ideally its still 3/4 unfinished mate, to go see Donna the teacher and ask her WHAT is UP with the decrease. I pulled the end out four times, which is eleven rows each time of twined knitting, which take about twice as long a single-end knitting (decreasing from 56 to 12 stitches). It corkscrewed. It just looked bad.
Despite this, and depite the anxious pleas from its unfinished mate, I am starting another pair, intended for a Christmas present. With a Latvian braid and a three-color cast-on I doubt that I am the first to unvent, but I hope not the last. By the time I get to the tip of those, I imagine I will have finished the green ones. It is Wendy Merino, from The Wool Room in Antrim, where the very sweet Mrs. Hennesey had ordered me the book on spinning dog hair and when I went to pick that up, I had to get the Wendy because I had never seen it anywhere else and the colors ravished me... and just a few ounces of Wensleydale (wool, not cheese). So I spun up some of the Wensleydale Friday night.
I had been reading
another book on natural dyes
, which I like very much since it has so many very mundane and local plants to try. The author mentioned, in passing, that you could get interesting reults adding ammonia to the end of an onionskin dye bath. This was too much to resist, since we DO have onion skins. We save them for Sarah's fiber and dyeing demonstrations and almost everything either of us cooks involves an onion (except, so far, dessert). I presoaked some onion skins and yesterday, as the fun part of the day (after Doug and I finished painting the walls of the to-be-rental apartment and I poured the paint on the carpet, not that I am dwelling on it), we dyed three miniskeins and some of Doug's silk hankies.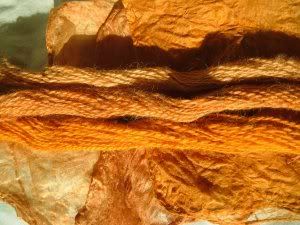 The skeins go "onion skins in aluminum pot" (as they all were): slightly bolder onionskins with a splash of ammonia added to the end (it turned the liquor a lovely burgundy); and onionskins with a dash of tin salts added at the end. The hankies look even more like dead leaves than the yarn, and I look forward to seeing what Doug does with them. I am thinking trim on a white sock for my yarn.