Well, I've been busy. And lazy. Like, pots of perennials not getting any younger on the porch, grass curiously not getting shorter, it's too hot. And I keep being at work, the dig, the lab where I exist to take population pressure off the dig and incidentally document the truckloads of modern cr*p we are digging up, very carefully.
I believe I mentioned I had cast on Birch. I am not sure whether I mentioned that I had cast it on again. And again. And again. Most recently, I cast it on, marked every ten stitches, and
knit two rows of stockinette
Now it's behaving like a textile instead of a cat's cradle. I still love the delicious cranberry Lorna's Laces, and the other day I got about three rows of pattern done (with rows of purl in between. Thank you, Cassie and Claudia!).
And I am on the seed-stitch lattice square of the Barbara Walker Learn to Knit Afghan. I finally gave up trying to follow the directions and looked hard at the picture instead. Much easier. If I had been learning to knit I think I might have lost heart.
My frog in the rubbermaid pan of broken jars and water stopped being around. At the same time we found a dead greenfrog in the entryway. I mourned for him for several days and then cleaned up the broken glass. The small, deep hole Paul dug in the Malarial Swamp area of my backyard, the one that filled to the brim and almost ate the earthmover, is now the home of at least four or five small greenfrogs and a diving beetle and many dragonfly eggs. The swampiness of the immediate area is somewhat relieved, though not entirely. I found some marked-down perennials, including a variegated willow tree, at Home Depot. The willow tree, which I hope will look less like it has a disease when it's bigger, should also help the swampiness. If it ever gets planted. We are running enough mosquitoes of an evening
inside
the house that I am reluctant to try to dig a hole in the saturated clay near the 'pond.' But I don't think the phoebes mind the change in the distribution of the water.
Twilly keeps bringing frogs in. We keep taking them out.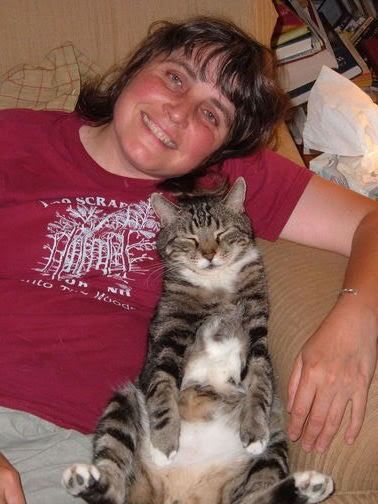 Me and my cat, Asty.
The Evening Grosbeaks, whom I still believe are fiscal and social conservatives, were feeding their young at my feeder. There were several Rose-Breasted Grosbeaks, whom I think are more liberal (the guys wear pink, all right?), but I haven't identified any babies yet. I also saw a turkey hen with seven utterly adorable chicks, but she was not at my birdfeeder.
Ellie is trying to build a cat condo/kitty castle/carpeted tall thing for her cat to sit in and play on. She has learned the difference between chipboard and plywood now. Where did I go wrong, that she didn't know already? She's 19. She does, however, make amazing gluten-free birthday cakes. We had one yesterday for my father's 78th birthday. All of us are amazed that he's that old. He and my mom are moving from their house to an apartment in a week.
I don't mind urban archaeology, but I am not good at bearing industrial rubbish any better than I do fools. Although you cannot put fools in little properly filed plastic bags, at least not legally.