Helen
writes:
"And speaking of that[New Hampshire Sheep&Wool], there will be a blogger gathering by the Roby Building facing the goat barn at noon on Saturday. I hope we'll see you there!"
What she said.
Doug said he was not vending this year. So I did not intend to vend, even as he has spent the last several days getting things together, so he can not-vend. At the Huntingdon Barn.
I explained to
Etherknitter
that I do not need a thing, almost do not want a thing (because I haven't seen them, probably). But Doug and I were at the Feed&Grain store, where it smells good, the people are friendly, and I could buy a entire, mostly John Deere-themed, wardrobe,and they had a horse trough. We looked at it and saw a lovely utility sink. Just the right height.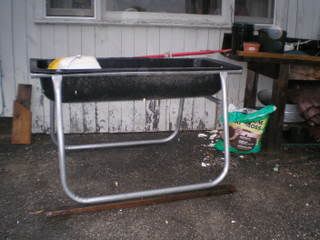 When Doug gets time he will put a proper drain in it.
So either I have to homebrew and wash bottles or buy a fleece, ideally both. This weekend only one thing is possible. The Only Beloved Daughter is returning, briefly, from Italy. (The Only Beloved Son is suffering from a recrudescence of the mono, which is most unfair.)
Meanwhile, we had a couple lovely days of spring and then a couple of hideous Dawg Days. This morning began with a pleasant thunderstorm and some badly-needed rain--not enough, but it will slightly reduce the forest fire potential. Yes, this is the part of the country that just had its third hundred-year flood in 18 months. We needed gentle rain. We still do, but the tadpoles and other amphibia will be grateful for even this much.