It is not even 9 a.m. and it's already too hot, which does not augur well for a humid day in post-agricultural New Hampshire.
Last weekend was GREAT. The OBD had come home, which improves my standard of living all over the place. I cleaned the kitchen. She and her boyfriend _cleaned_ the kitchen. She cooks. She is a little rigid about not letting me go to the grocery store alone, but as she is probably right (I had three kinds of Caesar salad dressing in the fridge, at least two coagulated beyond (word for tastiness/attractiveness/low bacterial count), I cope.
On Friday, however, I left her behind to go to Northampton, where I met up with blogless Tiffany, a nice young woman who graduated from Smith in 2006. She knits hats with tentacles. She has been at both of my Smith science fiction convention-spinning classes, and I must admit that has something to do with her becoming a kickass spindler (though she has my weird habits, like not using a leader and leaving space between the cop and the whorl). She and I stayed with Grace and Dahlia, some of my oldest friends, and we went to a very tasty Chinese restaurant in Florence, recommended by another friend of OBD's who graduated in 2007. _Her_ name is Eleanor, like the Only Beloved Daughter. Anyway, the next day Tiffany and Eleanor and I went to the Mass Sheep and Wool Fair. The day started off gross and humid and turned pellucid and warm and delightful. I kept running into people I knew, which is possibly the nicest thing about sheepandwoolfests.
As I may have mentioned I bought a few things at NH Sheep and Wool, so I was trying to restrain myself at Cummington (some roving. Hardly any, really. A little angora, some lovely mixed red Romney, four ounces of regular pleasant greyish Romney shot with silver Firestar...) Also we were bummed that the needle-felting was a demo rather than a workshop, so we acquired pads, needles, and roving and had our own workshop. Eleanor was fighting illness and cheered up considerably when we sat down and began stabbing things.
I really enjoyed shopping with other people; enabling is nearly as much fun as acquiring and the guilt is different. Tiffany's beloved had told her any animal she brought home had better be stuffed or Katy would eat it (Katy is the beloved). Tiffany was considerably tempted by the baby rabbits. She has two rescue Angoras at home and wanted one who had been well socialized, who would be her friend. She decided to postpone this till her fiancee could be involved in the adoption.
She did buy a fleece (this is a spindler with a set of handcards, people. She is insane),which isn't so much a stuffed animal as an empty one. And some bright yellow roving. She had been going to get another spindle or so but she was seduced by my
Golding
and planned to get one by mail-order.
We dropped Eleanor off at her dorm to finishing packing and took a quick rest and then went to MamaCate's party. Can you say drunken rout (
see definitions 3-7
)? I have never been to such a rowdy party where everyone was sitting down. Some knit, many spun, very many tippled. Amazing. Delightful. I walked in and announced that Tiffany ,who had never met any of these people until that day and was showing considerable bravery, needed to learn to use a wheel.
MedStudentWhoKnits
offered the spare she had in the hall (I only travel with spare spindles. She is way cooler). I announced that Tiffany needed roving. Mamacate made Romney appear. I announced that Cheryl, who was sitting on the other side of Tiffany on the couch, should show Tiffany how to use these things. She looked surprised but she did, and now Tiffany thinks she might like a wheel for her birthday... Another life ruined. My work there was done.
I did get to show my tarted-up wheel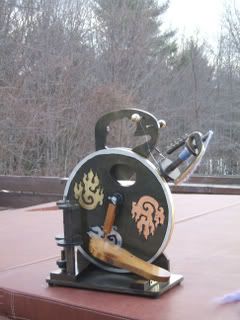 to
David the Merlin Tree
.I think he was appalled. So I gave him some home-brewed beer and he oiled my wheel.
Tiffany went back to Brighton on the bus the next day, and I went and loaded my car at Eleanor's dorm room. Then I met Grace and Dahlia at the Paradise City Crafts Fair, which is too high-end for me. I bought five mugs from three vendors. There were many lovely things there I cannot afford. There were many lovely things there I wouldn't have if they gave me free with a pound of tea. There were many lovely, well-made things with no personality at all, that look to me like they belong in a really nice furniture store. It was weird. I didn't see anyone I knew there other than Grace and Dahlia, and our cell phones got a workout as we tried to stay in the same buildings.
Exhausted, I went and moved one load of Eleanor's stuff into her summer apartment and we checked out some dumpsters, scoring a desk and a nice end table. We headed for a place famed for its ice cream and alleged to serve sandwiches, but there were no sandwiches by that time of day. We were forced to have ice cream for dinner. Very good ice cream. The cows responsible for the raw material watched us watch them. Eleanor remarked it would not have been as much fun if we had been eating burgers.
We got back to Henniker about 10pm and I collapsed, having brought two Eleanors together.
Monday of Memorial Day, since I had done nothing for months but tell people how important it was to scour their fleeces ASAP, I washed my NH SheepandWool fleece, Hezekiah of Brimstone Hollow Farm and more of Jazzmine the incredibly dirty alpaca (she washes up very nicely, though). The horse trough works very well.
On Tuesday, OBD and I caught the small elusive orange ex-kitten and forced him into a box so the vet could do awful things to him. Toby came through fine, no angst about Losing His Manhood, and has been spending a lot of time in my room. He is not supposed to go outside for two weeks, which seems excessive since it's the same guidelines for abdominal surgery. He seems much happier confined in one room, though, and lets us pat him and purrs a lot. I think Marten is glad of the break, since Toby ALWAYS wants to wrestle him. Marten is too cool for that.
Now the extra Eleanor has departed and I should plant annuals. Mostly, I spin. I have spun some of the Hezekiah, and it is really lovely. I have spun about 2/3 of one of my three 4 oz scores from Friends' Folly Farm. Spinning is easier than knitting. And I tell myself it _is_ stash reduction.
I want to go dig. I don't want to work. I want to spin. I want to sleep, and make wine and beer.