As Aragorn might have said in these circumstances.
I had a very pleasant time last weekend. It stopped snowing around noon and I reached Northampton without incident. The ground cover of snow stopped a few miles north of the town. There were still a few piles hidden in the shrubbery but you had to look. Saturday was brilliantly sunny and colder than the whole previous winter, though the thermometer said it was above freezing. We were not.
And yet not one person in the spinning class tried to hurt me and they all learned to spin. One of them, the
Dread Pirate Roberts
, had learned to spin in junior high, so she remembered very fast and took off.
(Flickr set of needlefelting pics)
She also came to the needlefelting the next day, except then she was
Ms. Frizell
. I find it very relaxing to be among science fiction fans(although figuring out who people are dressed as can be confusing since I haven't watched TV in a while). Several old graduates whom I liked had come back to campus for the convention and it was a delightful time.
After the spinning, we had impromptu needlefelting in the hall for people who needed to leave early the next day. After a while, I went downtown, _freezing_ in the wind, and got a haircut. A bunch of us met for dinner and then we went and sat in Ellie's room with all the lights turned off (it being
the hour
people were supposed to show their support for the earth).
Sunday I finished my socks, by refusing to put on any socks until I had cast off the ones I was working on. It only took about ten minutes.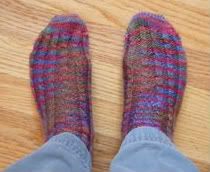 Needlefelting the next day went well too, and it was warmer. I stayed around until dinner time and went home just before dark.
This past week my boss was away. He is taking a sabbatical this May - September and I will have an interesting balance of going mad from loneliness and boredom with the desire to pay my oil bill. Friday it snowed again. The deer are still everywhere, hungry.
Saturday we had enough sun to melt the snow back and reveal snowdrops and crocus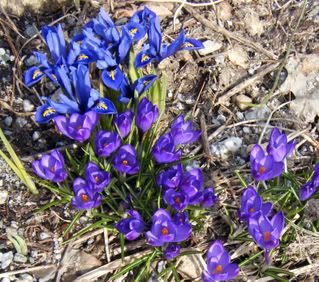 . Sarah came over. Doug went to visit his GF in COncord and Sarah NEEDED to go get 17 more swatches of blue fabric, since she had only come up with a pathetic 35 blues from her personal stash. She has fallen into the teeth of the Quilting Beast (so far I have escaped), so we went shopping. Then
although my house is hideous and guests were coming for dinner, we sat in the sun on the front porch and made like turtles (who knitted and embroidered, but very much into the basking). Afterward Sarah did the Best Friend EVAR thing and tidied the living room while I made food. Food-processor enhanced borscht. Saute onions, potatoes, cabbage, carrots; add shredded beets and water, simmer and then puree it. Serve with yogurt, lemon juice, salt and pepper. Amazingly easy and good. We also constructed pizza.
Doug reappeared for dinner, sadly minus the GF, and Cindy and Susan showed up pictures of their horse. It was a good evening. Then veryone but Sarah left and we put out the blues (Sarah had washed, dried, ironed, and cut them in what seemed like no time) and arranged them.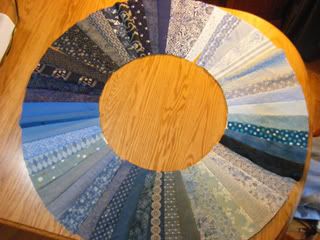 She brought a lovely book to look at, Last-Minute Patchwork and Quilted Gifts. The owner of
Purl
in New York wrote it, which goes to explain the affinity between the shop's logo and the clean light design of the book.
Too Much Wool
took me there a couple years ago (the entry is January 25, 2006). I had warm feelings for Purl and Too Much Wool and admired the Color Wheel Quilt that has bitten Sarah so badly that she put down all her projects and began a blue and brown version. Turned out to have been made for the book by Too Much Wool's secret identity. I went on turning pages to what turned out to be my favorite project picture in the book, a big multi-yellow randomized strip-pieced warm quilt. There was a closeup. "Holy cow," I said. "Some insane person
hand-quilted
the whole thing. And did a really lovely job." I read the copy. It was Too Much Wool. Way to go. Where does she get the time?
This morning dawned cloudy and bleak again.No sun-bathing. Sarah and I went in search of the perfect dark brown for her blue color-wheel quilt.
It will be a beautiful quilt, particularly if you like blue and brown together, but in some ways it looked too much like the snow/soaked, dormant vegetation/overcast sky we were driving through. Though we went even unto
Keepsake
(about an hour's drive from here), we have been forced to retire and work on other projects.
Willow is sitting on my feet and it is a good thing; we are both warmed.