Odd, really. Unusual this time of year? After I wrote up my Instructable and suggested the prudent person might scan their new wool (or floss, or fabric) buys as they bring them home, I had occasion to go to Northampton for the day. Sarah and I had lunch with Grace and Debbie and behaved sedately (as these things go) in WEBS. I was delighted to see that Socks That Rock have colorways named The Slayer, Spike, and Drucilla.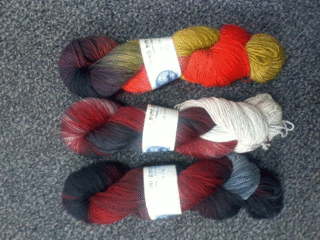 (top to bottom. I think the orange is for the hunting aspect?)
I do admire good marketing. I succumbed and bought Drucilla (whom I wish they had spelled correctly). I also bought some green silk-cashmere (it was ON SALE) and another green-multi colorway from Trekking. I scanned the other colors, too.
In a similar Sisyphean, or perhaps more Herculean (I am thinking Augean stables, here) line as organizing my DMC, I have started putting my not inconsiderably messy CD holdings onto iTunes. I have an external hard drive on my old Apple desktop, which is too old to upgrade but still has the best speakers I have ever owned. I am finding a lot of music I had forgotten I have, and a lot of empty cases. The CDs I find without cases only rarely correspond with them. I finally realized that I was bad at putting them neatly back into their cases and the pases back onto the shelf at least partly because there was no room on the shelf. As I copy the disks, I am putting them into a cardboard box to put in the attic (apparently if you burn the cds to your computer, you're not supposed to set the originals free or sell them). This will make one corner of the living room less awful, and as the kittens are in the 'poltergeist' stage of their development I won't be fishing CDs from behind the baseboard heating as much if they are securely stored. The computer also puts everything in plain sight, in alphabetical order, and I think I am going to like it.
In the meantime, however, I wish I could find "Guys and Dolls."
And I have finished half a pair of mittlets for my son, whose hands get cold because apparently the Apple store has only only door (no airlock), and it's in the John Hancock Building wind tunnel. I finished embroidering Sarah's Christmas present: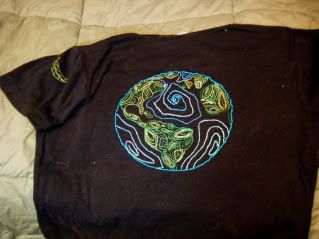 , Leafy Earth from
Urban Threads