I forgot that the shirt I embroidered for Sarah was supposed to be an addition to the picture of the other things (except for a dazzlingly ugly scarf, in a color she already had a handmade scarf from me of... never mind, she appreciated the thought...) I made in a burst of pre-Christmas industry.
Here we have the
Poems
mittlets for Kimberly -- a lovely American-made yarn with great similarity to Noro, only cheaper and not so itchy; the
Cascade
red
Scrunchy Scarf
for Kimberly's father Joel (he's my son's fiancee's father -- does that make him my husband-in-law?); the pillow case and the patchwork tea cozy I made for my daughter (the patches were leftover from the quilt I made her a while ago); the punchneedle embroidery I made for Doug (it might be him and me, it might be him and Barb; he makes a great friendly protective
snowman
, and he's not afraid of cute); and the tea cozy I made for my mother out of some fat quarters that were stacked next to one another in my LQS and smote me with their colors.
If you make a tea cozy, you put the outside together with the batting, and then sew the LINING inside out over the whole thing to the bottom, leaving a hole to turn it all inside out and hiding the seam. Chirality and topology and my head nearly exploded, yes.
It was all very well. I felt a little bad giving my mother a tea cozy and my father a corkscrew (
one that worked
, unlike the one he had). My mom prefers teabags and my father only has wine around for me, so I wrote "A Blatantly Self-Serving Gift from Laura" on both of them, and I did get them other things, too.
If anyone has a plum-pudding recipe they like, I need one. It is true that it only has to be a vehicle for the hard sauce, but I would prefer it to be more.
A final holiday note, though from a previous holiday: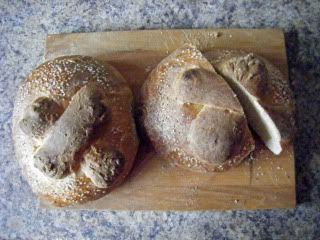 Pan de Muertos (see, it has bones on top) is a perfectly delicious Mexican treat for living and dead alike. You can get a good recipe from
Convivio Bookworks
(write and ask, and you should look at their splendid little
calaveras
while you're on their site. Because I am a King Arthur Flour junkie, I used their
Fiori di Sicilia
and their
crunchy sugar
and I am looking forward to next November to make it again. Maybe in little rolls. With carpals and metacarpals on them.