The day I left for Northampton (well, that trip to Northampton), two formerly sane people on my yahoogroup blew up into a flame war and I had the second actual day at work. This meant that I met the (equally new as I) bookkeeper (she has sheep and llamas and thinks she might like to learn to knit. What....? It usually goes the other way) and the Tech Support Guy. They sat in front of my computer all four hours I was there. I took the insanity on my list much too personally, but there was some stuff going down about people being defensive of the RC church, and people being offensive about the same, and I am more than a little conflicted about being back in the theological saddle again myself (hey, I can be around it without having to inhale, right?). And not conflicted at all about wanting both of those involved to SHUT UP. I was frazzled most of the way to Smith.
Once there, I had a great time and saw a truly inspired awful hat, based on a monster in a comic book, being knitted by the kid down the hall from my daughter. I hope it turns up in Knitty one day. The next day I went to Helen's and had a wonderful time with Deanna and Susanna and
Cath
and
Helen
and
Teresa
! They were (no big surprise) soooo nice.... It was interesting because Deanna and Helen are old-timer Sheep Thrillers (Susanna is someone I hope I see more of; this was I believe her first gathering of fiber people and I think she had fun), and Terri is a newer friend from blogging and it was good to have people from both communities.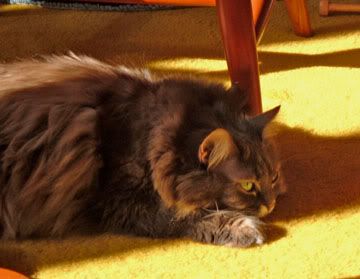 I don't think Helen's cat was very happy about us being there.
There was enough food for perhaps 30 people, so I could not eat the gluten-free cookies Teresa had brought. She made me take them home. They were tasty. I worked on the Experimental Hat, which Susanna had wondered if it might be made of tin foil. But I told her not to be silly, they have worked out all the important standards for making hats to protect your brain from alien thought-transmissions, and I was by no means reinventing that wheel.
Then I went back to Smith and picked up my daughter and knitted giant shrimp (the Experimental hat is modular, an I thought they were going to be turkey feathers but actually, they look more like Jumbo Tiger Shrimp) and a giant red sock all the way to Woburn (where the boyfriend of daugher abides). I forged on from there to Dedham, where I could not find the restaurant where I was to meet my friends, and ate popcorn and sulked until they turned up, perfectly on time, and with movie tickets. This Harry Potter is not a happy story, but the movie is well-done. Considering how much sub-plot they trimmed out, it was amazingly coherent and impressive.
After the movie we went to Chili's for caffeine and I had chicken tacoes. Most places, a taco involves a corn tortilla, right? Not at Chili's. I was not happy. The filling was not bad, however. I got home at twenty to two in the morning.
The flame war had not abated. Rather than go online, I spent Sunday rereading
Harry Potter and the ....
, well, all of them. Yes.
I read fast.
Work on Monday was much more serene and I actually got to fill an order and read some of the materials left by my predecessor. Tuesday was similar, only I drove to Northampton carrying only the toe of a giant red sock.
As I should have expected, my poor daughter was stuck in Term Paper Hell, probably because I had taken her to visit her boyfriend on Saturday. She worked. I finished the second giant red sock that night about midnight. Suddenly...I had no project.
Granted I was in the same town as WEBS, the place was not open at midnight, nor yet when we left at 7 am ... so I drove. I was home in time to take a shower before going to work (10 to 2 are very, very luxurious work hours, and I realize it). The tranqility of the day was short-lived, as I got a particularly unfair speeding ticket (my second in my LIFE), there was STILL the SAME flame war going on and it was the day before Thanksgiving and my house was a mess and we hadn't been to the grocery store and guess who had PMS? My daughter patted my hand and made me have tea.
More tomorrow, God or other Outmoded Philosophical Concept willing.