The Christmas knit-frenzy is impeded this year by tendonitis in my left thumb. Maybe a transplant? Actually, knitting only hurts a little, as opposed, apparently, to spinning (damn) and reading a paperback with one hand free (double damn). And washing dishes. Washing dishes is fatal.
So my father has been warned he may one get one and a half socks.
It snowed two Fridays in a row. Doug walked around looking out all the windows in the house and found a turkey sitting about 30 feet up, eating bittersweeet, in a tree.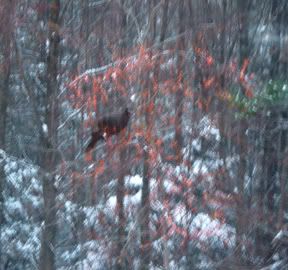 much enhanced

It was snowing rather hard. A cardinal came and sat nearby, hoping to make a panorama worthy of
Art Wolfe
, but it was a pathetic effort.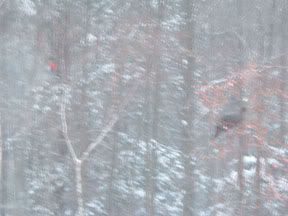 pretty much the way it looked
The icicles outside my bathroom window, however, are giving it their All.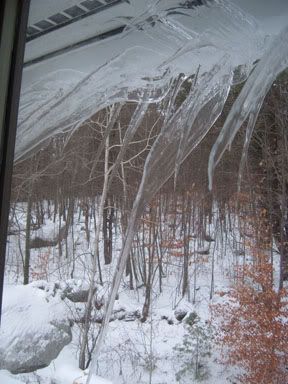 Sabre-toothed ice tiger teeth
Work is not a bad place. The Council of Churches in NH is one of the more liberal in the US, so I am happy there. Except that my computer needs more memory and an attitude adjustment, of which I suppose the same might be said of me.