NB - I added a picture of the anniversary dinner to the previous post, if you're into that.
Work on Friday was a bit odd, because the fledgling Administrative Assistant had booked her boss into two meetings essentially back to back. I hope he lived. I think he did, because I spoke to him this morning while it was snowing too hard for either of us to go to work. I can't wait for my computer to get its more memory-upgrade. I staggered home, where my cat and my daughter's cat explained that Doug had not fed them for the past two weeks. I was only away for four days, so I ignored them. I did laundry. I read more
Lois McMasters Bujold
(this trilogy, particulary the first two, has some interesting thoughts about religion), and then on Saturday I got up andand did yard work, because it was over 60F. It was lovely, and the deck needed the rotting birdseed to be scraped off. The only good weird thing the previous owner of this house did was to run a hot water line to the hose; it is much more efficient, and less unpleasant, to spray hot water all over a deck in Januaury than to use cold. Doug helped a lot.
Then I made Scallopped Jerusalem Artichokes, in quest of a low-carb dish that would warm the cockles of diggers' hearts. the past two years we have had the SCRAP winter party in the coldest large room on the coldest day of the year. This was possibly the warmest day of the year, so far, and we had it in a smaller warmer room, and I think more people than usual turned up.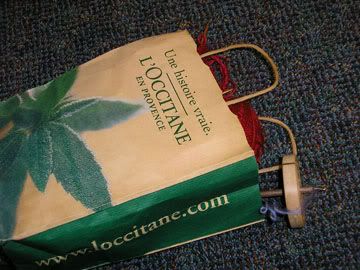 No excuse for this picture, except that I thought it was pretty.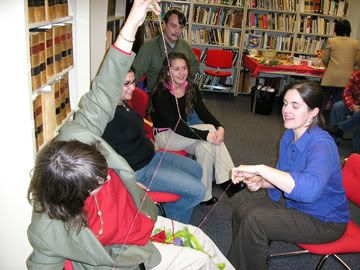 Sarah and I managed to get some spinning done.
Doug and I staggered home and got up the next morning and eventually set off for Claudia's.
This was the largest private fiber gathering I think I have been privileged to attend. I met a bunch of people whom I ought to remember, and I ate some delicious food. Sandy and Carole and Beth and Cindy among others, and fresh mozzerella and linzertorte and ... it was am amazing gathering. Etherknitter Laurie called Cassie; Norma came down with a very fanciable Polworth fleece. I also took the
shoes picture
that Julia posted; it was like, you go in the door and they spilled out at you.