Monday, 3 January 2005
Welcoming SARAH, the amazing knit-crazed housemate
I have a little black kitten, momentarily not channeling Kali-Ma, under the blanket on my knees. This means I can't [pee] do several increasingly urgent errands, or take pictures of my beautiful hat. Sarah the housemate knits fast, accurately, ambitiously, and persistently. I still like her, even though if I post her creations my own indolence shows up more clearly. The world's most enabling exBF (all right, I did introduce him to spinning, he has some revenge to get) gave us both gift certificates to the Elegant Ewe, and part of my choice was Elsbeth Lavold's _Viking Knits, Inspiration and Patterns_ (the Amazon url won't wrap. Use 'search.')
We thought possibly Sarah would use it while making me a sweater (which should account for all my Christmas presents for about the next three years, I think). Sarah grabbed the book and before it had been in the house even 8 hours, she made me this hat.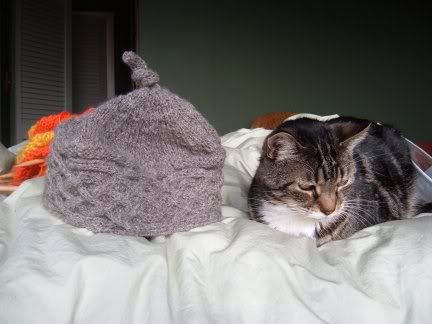 (Asterix wanted to show how well it goes with him.)
She has been spinning Mary Pratt's feathersoft gray Romney for several months for the sweater and used some of that. It looks like weathered limestone. My archaeologist's heart is kvelling. And someday, a sweater. I am trying to learn to read the graphs. They are not for beginners.
I am in the process of making felted duckie slippers for the daughter. Since I ran out of orange with less than half a beak to go (about five yards) I HAVE to go to the Elegant Ewe again, damn. My mom's socks are coming along, too.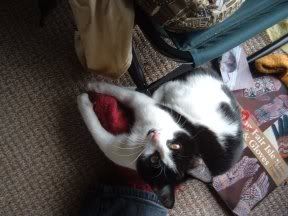 Twilly, let go of my foot RIGHT NOW.
Sunday, 26 December 2004
The Feast of Stephen
Stephen was the first martyr recognized by what would eventually become the Christian community. Unfortunately for him, he was stoned to death. And to this day, Western Europeans have thought this was a way to handle the day after Christmas... no. What I did was try to get my blog onto The Sheep Thrills Webring and overreached myself to the point that I hope my daughter will come and fix my broken blog. (One will try to join the webring when I have someone fluent in HTML here.) Asterix has come down with the kitty cold. I hope he will not get it as badly as Twilly had it, but he sneezed all through dawn this morning. I also still have one Cool Mittlet to make for Sarah. She does NOT have two right hands. It would probably help if I had not tried to put a cable on it. One must forge on. Later: One did. One doesn't quite get gussets, but it works. She is pleased. Perhaps I shall make one more and have a pair of Cool Mittlets for myself. Onto my mom's birthday socks!


Updated: Sunday, 26 December 2004 7:18 PM EST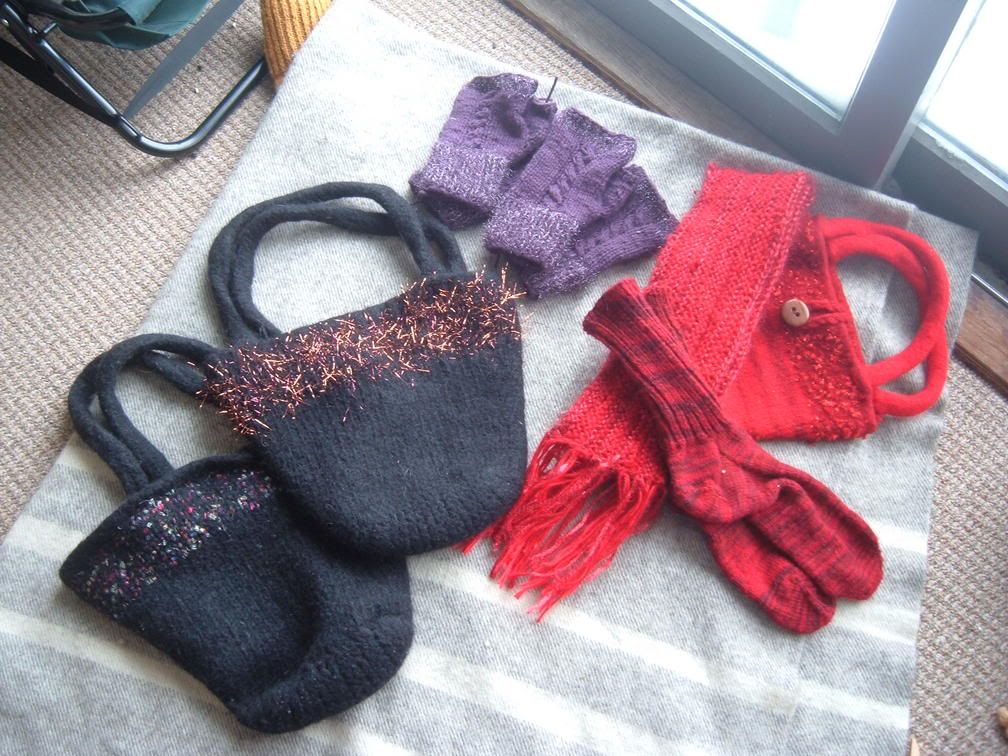 So, FOUR felted bags (two sent off, one retained as not quite up to standard), THREE pairs of mittlets (look for the third pair in vain, but they are black with red trim), TWO felted slippers (well, one is felted, and the other I did today, and stuffed it inside the felted one for An Amusing Presentation), ONE very glossy scarf... and I went to the Elegant Ewe and didn't buy anything today. Because I still have my mother's socks, because I have the mitten fixings I got the other day as pre-emptive retail therapy (and both deserved and helpful it was, I must say) and because I still hope to make another pair of Mittlets for Sarah. It could happen. She has this stash of 12 skeins of Olive (nice murky green) Lamb's Pride, which I have been making her slippers out of, and I need her to come home and give me another to make mitts out of.

Meanwhile, we had snow, and 23 turkeys. I am very lucky, because many of the turkeys in my life manifest themselves as turkeys, instead of allegedly human beings, and so I know where I am. They walk like a Bangles song.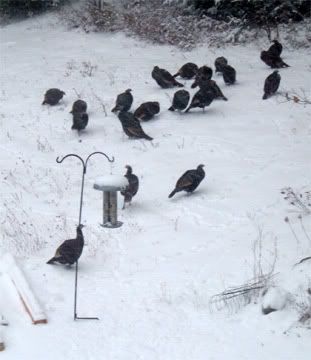 Twilly the kitten is still sneezing, but she is well enough to think she should get what she wants, like lying on the computer keys (they are nice and warm). I just had an inauthentic but very tasty Mexican meal with the ex-boyfriend, which was good for the ego and has left me stuffed and slightly lit. I may start a Latvian mitten despite the fog. And it's 19 outside, _such_ an improvement from last night, when it was -4.

Updated: Sunday, 26 December 2004 6:35 PM EST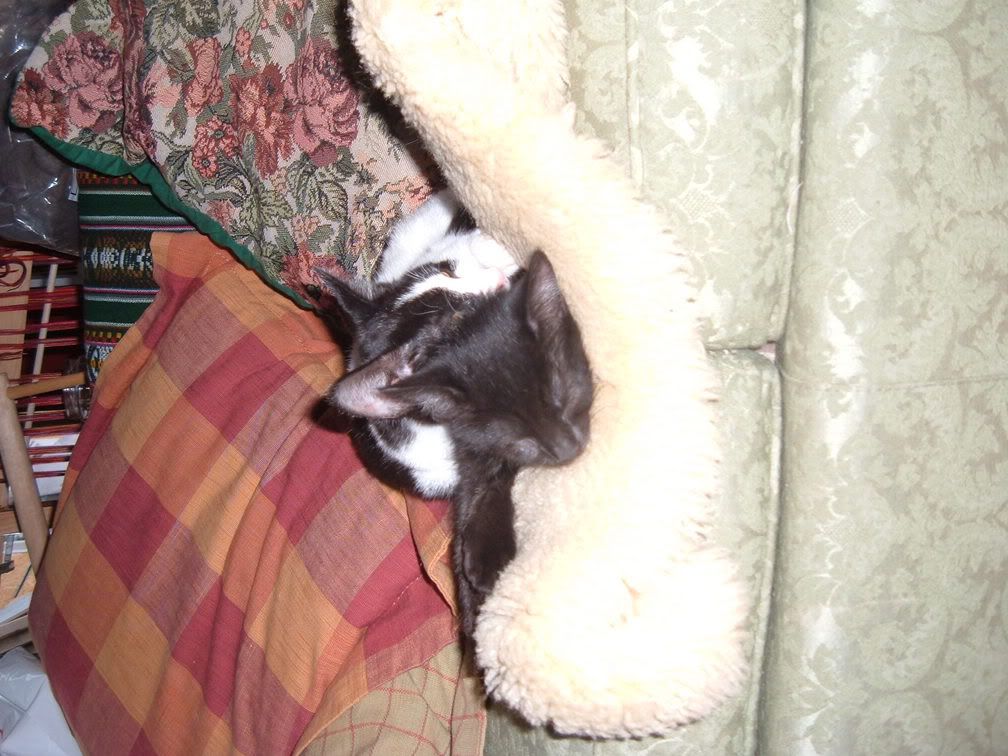 These are Abbey,a raver who is about seven weeks old, and Twilly, a sweetie pie of perhaps ten weeks, last Tuesday. They are not helping anyone get any work done.
I have, in progress:
part of one sock of two, due Jan 28 (for my mommy, who has mentioned several times how much she likes the socks I made her last year).
Two completed knitted felt bags (for my ex, for my aunt), and one (for my aunt's housemate) that I hope to machine wash for the first time this evening.
One hat (for my ex-boyfriend). Mittens for him would not be bad. Nor would finding the hat, which is not where I thought I put it.
most of one "cool mittlet" (for my son's girlfriend, who has TWO hands, yes) - I need to make three more (for my daughter. No, she doesn't have three hands)
One gigantic knit-to-felt slipper, for my normally legged housemate. Meaning I need another. I have washed Slipper the First three times and now it's only big enough for my father. It was looking Michael Jordan-sized and I still have some hope it will get small enough. It is hard to have enough faith that it will get really human-sized. (one more wash later, it's a little small for my father but still might hold a change of clothes....)
A scarf would be nice to match the ex's bag. I have bought the yarn for it several times (a warping disaster helped persuade me to learn to weave _after_ Christmas). I am planning to send the bags for my aunt and her housemate to Texas with useful things like Henniker refrigerator magnets and maple sugar lollipops.
The Yarn Harlot (http://www.yarnharlot.ca/blog/)makes me want to spin some really fine yarn and dye and make amazing mittens. I have most of two ounces of incredibly well-prepared quiviut roving that want me to make something special out of them, at one time for my mother but now, possibly for me. Even though she Gave Me Life. I have some very purple yarn my daughter wanted me to make her something out of; I think maybe thrummed mittens? I have a great deal of alpaca roving that is even unpacked; most of my books and all of the dye and most of the yarn and roving are still packed up, waiting for Paul the carpenter to finish the rebuild of the room that needed, the inspectors assured me, "maybe $4K of sill work." We think $17 K is closer. It will be a much nicer room than it would have been. Better be.