My beloved daughter and technological hierarch (she's supposed to be lower on the totem pole than I am because of her youth and inexperience, but this is not the case in HTML) has suggested I relocate and here I am.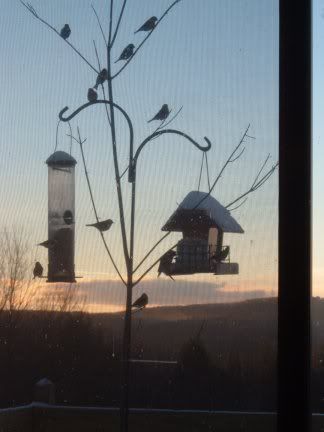 This is my birdfeeder, not long after sunrise this morning. There is a downy woodpecker on the non-tube feeder, although you will have to imagine the details.
The ducky slippers are waiting for more Orange You Glad to come into the Elegant Ewe. I have now bought one skein of Mountain Colors (I think it's called Moose) to start a pair of socks for my size 13-footed father. I had to make sure the color was still in production before I started, since I fear he will need a lot more than 100 grams for a pair of socks. I have the beginnings of a small tea cozy in itchy handspun of which I thought Sarah had given me a lot. Turns out there is just one ball, but more roving if I care to find it. Double-knitting is fun, although I am still unventing the increases.