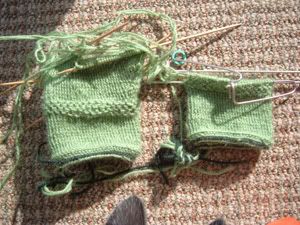 So I am coming farther on the twined knitting mittens. The best book on the subject is out of print and selling for $99.99 on Abebooks, ifyou can find it. I don't think I will be getting a copy anytime soon. Schoolhouse Press (or Elann) have the recent equivalent,
Two End Knitting
. There is also a fine article in the 'Sweden'issue of
Stranded
, and a discussion in Bagateller's
old blog
.
I am hoping to finish these mittens sometime soon and then try the technique with variegated yarn.
My mother's socks were hiding under the bed. Where I had looked. Several times. I finished them I think the dust kitties under the bed are getting very convincing.