It's beginning to look a lot more like I expected.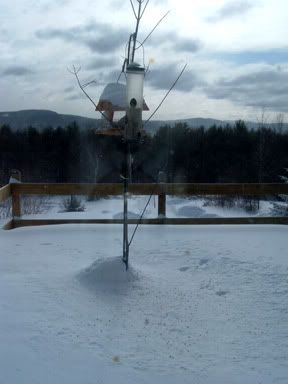 This doesn't show the sun as well as it might - it stopped snowing around 10 am -- but it also doesn't show the wind, which howls very effectively.
This is a close-up of the cuff on the twined knitting mitten: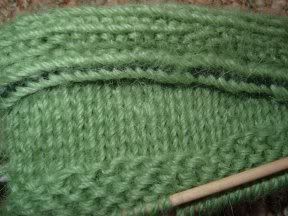 I have put it on holders and hope to make a second, similar one before Tuesday, when the class meets again, as I have little confidence in my actually finishing a second one without pressure. I am in a tizzy because I have been unable to find my mom's sock for the past week, since I started the ribbing for the second cuff: in fact, I have about 20 minutes to go to finish the pair and I am whimpering. Prayers, DPN-waving, small magicks welcomed.
Last night I had the poor Commissioner of the NH Dep't of Historical Resources going around feeling the scarves of strange women. The annual SCRAP (see link in sidebar) party took place despite the forecast, and he had the chance to meet qiviut, alpaca/Border Leicester, and several others. I wish I had been wearing more wool; the State Library was
cold
.