Juno
said it all better than I shall. But despite the driving (which was just long, not harrowing -- I reached Poughkeepsie by 1:30 on Friday, before it got dark or hairy), and the sudden terrible depletion of my checking account, I have to thank Norma and TooMuch wool for making me go. They were, as always, entirely right. Having a brainworm of "Touch Me in the Morning" for over a week was making the wycked speryts come out in their ghostly hosts. All the friendly people, and the colors, and a Mary Pratt fleece from a sheep called Peggy Sue took care of that.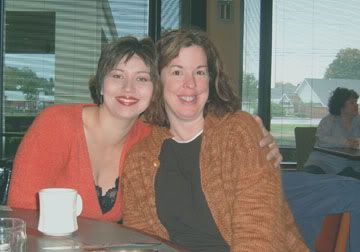 Nathania and Julia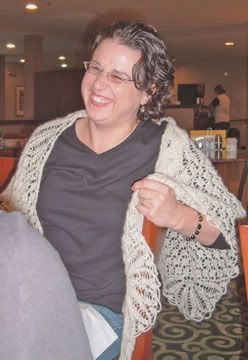 Mama Cate, whom I may now actually recognize
an unfortunate person who photographs badly with a Rhinebeck katsina
I will forget something important, but here are a few of MY highlights: The wonderful pleased delighted welcome I got when Julia and Cassie and Laurie found me;
the lamb chop/kebab/spinach/mesclun plate, perfectly done but not charred;
getting Norma to admit she spindles just fine with the right material (I also taught a perfect stranger, whom I hope finds the article on dog hair in the recent Spin-Off);
the sun coming out;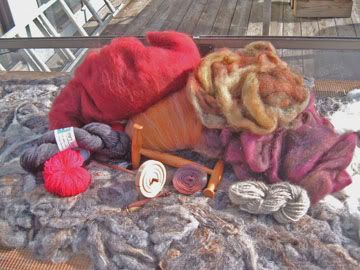 (oh, yes, that's the Mary Pratt fleece I bought myself, Jazz...oh, yes, I washed it on Monday...you mean you don't wash your fleeces before you unpack the rest of the car? yes, that's a mini-skein of Peggy Sue there, from the handful I washed in the hotel room on Saturday night, I spun it up Monday night because I had this diz and I needed to use it. Why do you ask me if I am compulsive?) (and two skeins of Socks that Rock and two Linda Diak batts and a sample of the roving I got from Tintagel Farms/Persimmon Tree Farms. I did also get a Diak crochet hook and some Mountain Colors and a skein of heathery purple yarn)

my new little TreeTops niddy-noddy, my new Charis spindle, my new Woodchuck diz and nostepinde;
a very small girl with a toy sheep;
the glow over the Woodchuck's stall, reflecting off his finishes;
a fine room party on Friday and a loud huge take-over-the-lobby that the management didn't object to on Saturday night;
perfect timing with my ride and roomies on Saturday, so they were heading to the car just when I wanted to drop off my fleece, and agin when my feet were dropping off me and I needed a Voice of Reason to tell me to Go Home and Put Them Up.
Saturday I ran into everyone at every turn. Sunday I missed nearly everyone and left about 2, wondering whether walking through one more barn would have turned them up again. But I know I will see youse all again soon.
Since I got home I have been doing things like tidying the fleece loft so I will have room for the new fleece (I am banned from even looking at anymore for as long as it takes to whittle the stash down) washing the fleece; planting 95 daffodils and a motherwort; and actually unpacking and organizing some books, which I had been putting off for the last 15 months. Not that I am wholly unpacked or organized but it is good to feel some motion there.
Thanks for the energies.