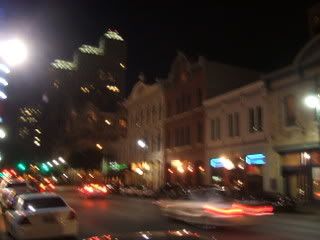 Austin is beautiful, the weather is good, the bats are very cool. I went to half of a symposium on
La Tene
art, and most of one on New England prehistory (and I have to admit our Archaic points are BOOOOOOORing) and tacos for lunch. I must have done something in the afternoon besides buy books, but I can't remember.
I am sharing my room with three other women and Matt from SCRAP. I like all of them very much, and it's fun to have a pack to hang around with. We went out for barbecue, back to the hotel for bat-watching, and then out to Sixth Street (see picture above)for more beer and music. Unfortunately I decided not to be a moral coward and call home to see how Mena is, and she is not going to make it.
So I came back to the hotel to be with my computer. The Internet means you can always have a small chunk of home with you wherever you go.