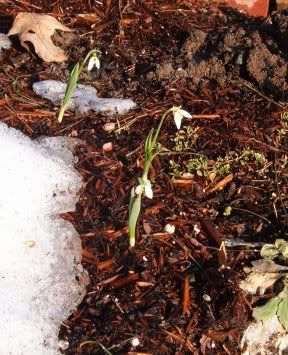 Snowdrops and crocus.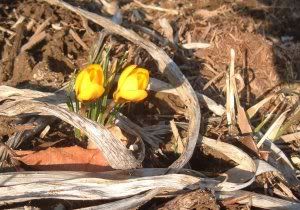 But Roosevelt, the last of the three guinea pigs we moved here with, has passed on. I hope he finds a nice herd in heaven.
My father's socks continue. My ex's scarf is finished! With two skeins of Sof-Twist and two and a half of Cancun, you can make a 20-stitch across scarf on size 13 needles.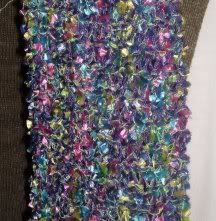 I am also working on scarf that will be for me, because I have messed up the lace pattern. I could tear it out. In fact, I did tear out the first set of confusion. Why this pattern (two rows, one all purl: not rocket science) waits to mess until I have knitted four to seven inches of it, I do not know. But after the first misadventure, I discovered Portrait ( a lovely Monet-colored mohair --oh, now I remember why I don't ever buy mohair...) was not only wispy and lovely but magically _self-felting_. It does not rip out. Either I admit I have made the cat another fetching little shawl, or I live with some snarls. It's still very pretty, in a kind of cyanobacteria, primeval slime way. This picture shows the scarf before the second set of mistakes. It is indistinct, which is accurate, but not as good a color as the real thing. It's much longer now. As a first venture into lace it could be much more discouraging.
yo, respect to you, love to all
find your inner cookie
brought to you by Quizilla
Actually they need a gluten-free cookie. I suppose she would be slimy and very dry.