Yes, it's snowing again.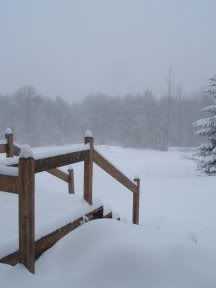 This postpones two Sheepthrillers' visit from MA, coming north to wrest riches and find fiber from sheep's warehouses, filling cars with warm snow-whiteness and rainbow's weavings
[ed. note: ie, fleece and dyed yarn-goods]
, infusing the camellia and spreading sweetness
[could mean some kind of dye-process or a reference to TEA, qv "The Importance of Caffeine in Fiber Gatherings of the Northeast"]
; hardy shoppers, but not fool-hardy, they will wait to try their tires on tarmac, not the glarey glaze of ice and slush...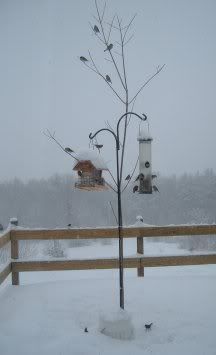 or I could just be losing it, here. They are suggesting we'll get a foot.
Which could mean I will finish my father's second sock, now up to cuff, and my daughter' second mitten, now nearly down to thumb.